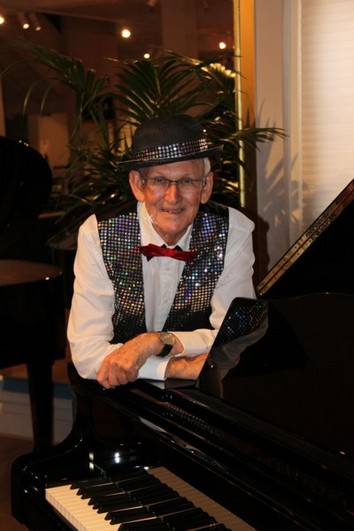 In South Australia Barry Hall is a name synonymous with music and entertainment. For more than 30 years he was involved in local radio and television as an announcer and musician.
His career with radio station 5DN and later 5AA and 5AD made his a household name through his top-rating request shows Choose Your Own and Just For You.
When television first came to South Australia, Barry was appointed Musical Director for various children's programmes produced at Adelaide's NWS Channel 9 – and he was very active in The Channel Niners, Stars of Tomorrow and Here's Humphrey.
Being employed as a fulltime radio announcer, music remained a hobby for Barry until he retired from radio and became an instructor for Adelaide's WEA (Workers' Education Association) where he taught hundreds of people to make music with portable keyboards.
As a result of his years playing requests on radio, Barry has the happy knack of knowing what people like to hear, and today he is in demand as a pianist and presenter at seniors' clubs, church groups, retirement villages and restaurants. His music is simple, tuneful and most of all entertaining.